What Would a Recession Mean for the Housing Market?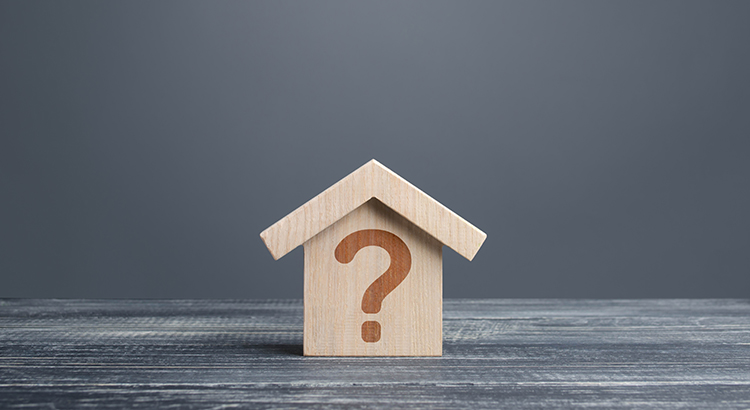 According to a recent survey from the Wall Street Journal, the percentage of economists who believe we'll see a recession in the next 12 months is growing. When surveyed in July 2021, only 12% of economists consulted thought there'd be a recession by now. But this July, when polled, 49% believe we will see a recession in the coming 12 months.
And as more recession talk fills the air, one concern many people have is: should I delay my homeownership plans if there's a recession?
Here's a look at historical data to show what happened in real estate during previous recessions to help prove why you shouldn't be afraid of what a recession would mean for the housing market today.
A Recession Doesn't Mean Falling Home Prices
To show that home prices don't fall every time there's a recession, it helps to turn to historical data. As the graph below illustrates, looking at the recessions going all the way back to 1980, home prices appreciated in four of the last six recessions. So, historically, when the economy slows down, it doesn't mean home values will fall.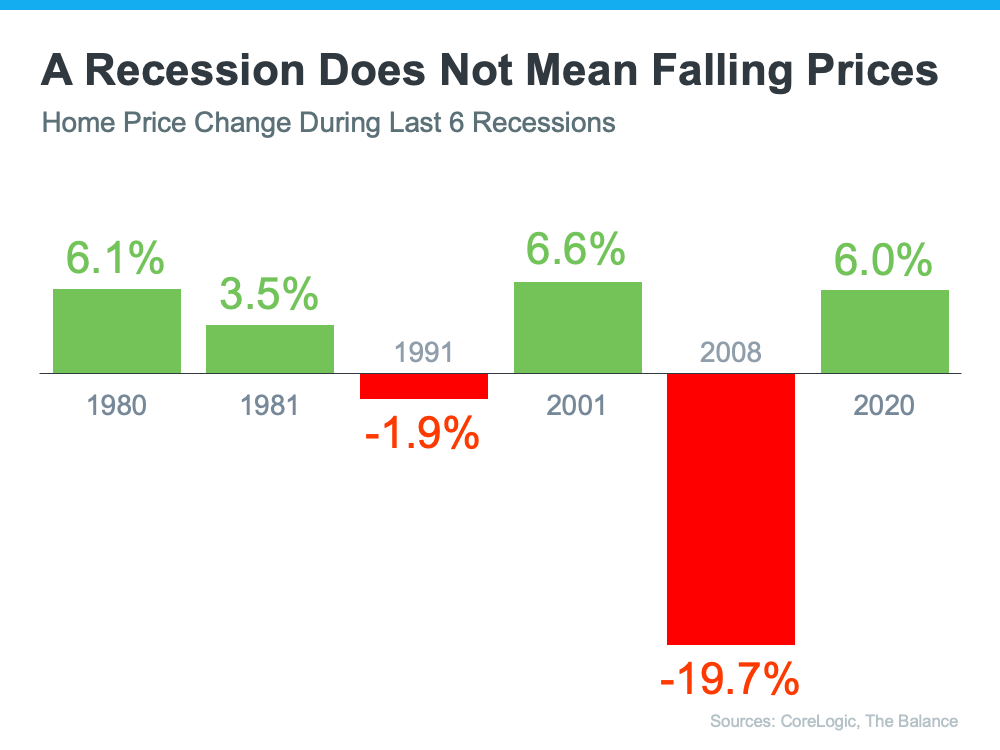 Most people remember the housing crisis in 2008 (the larger of the two red bars in the graph above) and think another recession would repeat what happened then. But this housing market isn't about to crash. The fundamentals are very different today than they were in 2008. So, don't assume we're heading down the same path.
A Recession Means Falling Mortgage Rates
Research also helps paint the picture of how a recession could impact the cost of financing a home. As the chart below shows, historically, each time the economy slowed down, mortgage rates decreased.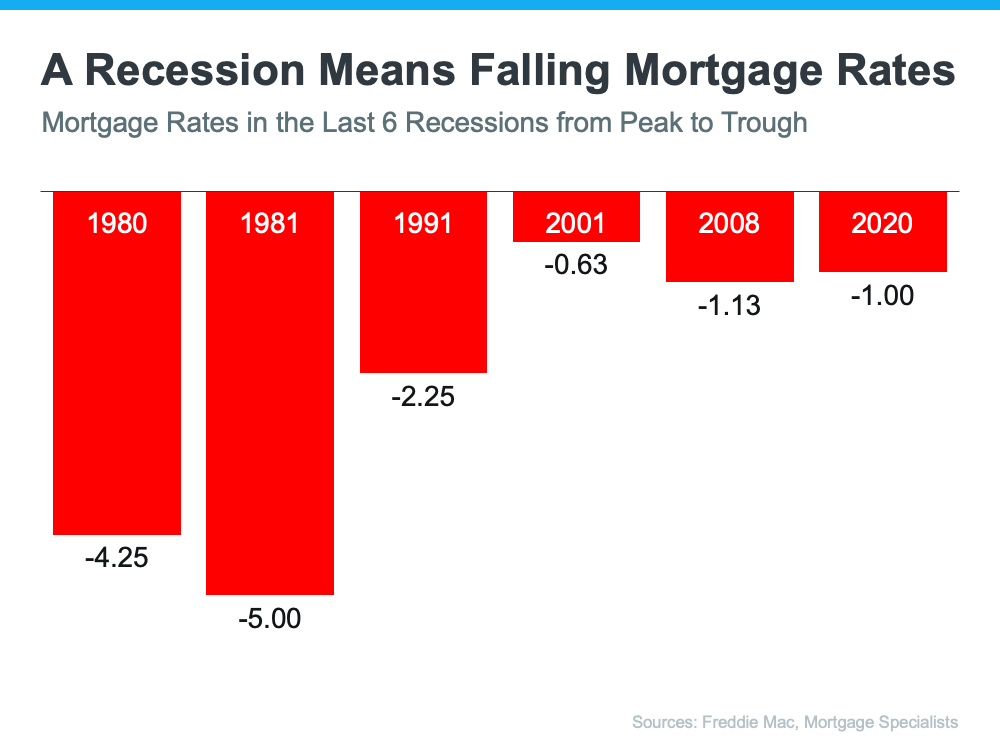 Fortune explains that mortgage rates typically fall during an economic slowdown:
"Over the past five recessions, mortgage rates have fallen an average of 1.8 percentage points from the peak seen during the recession to the trough. And in many cases, they continued to fall after the fact as it takes some time to turn things around even when the recession is technically over."
And while history doesn't always repeat itself, we can learn from and find comfort in the historical data.
Bottom Line
There's no doubt everyone remembers what happened in the housing market in 2008. But you don't need to fear the word recession if you're planning to buy or sell a home. According to historical data, in most recessions, home price gains have stayed strong, and mortgage rates have declined.
If you're thinking about buying or selling a home, let's connect so you have expert advice on what's happening in the housing market and what that means for your homeownership goals.
Lynne Watanabe MacFarlane, Realtor MCDM, SRES, SRS | DRE # 02066698
Intero | Berkshire Hathaway affiliate
LMACFARLANE@INTERO.COM
(408) 800-1141 Silicon Valley / Bay Area
(831) 346-2743 Santa Cruz / Monterey Bay
The supply of homes for sale has been increasing, and that gives you a better chance of finding the home of your dreams.
Let's connect today so you can start exploring homes in our local market!
Lynne Watanabe MacFarlane, Realtor
Intero, a Berkshire Hathaway affiliate
408-800-114- Silicon Valley / Bay Area
831-346-2743 – Santa Cruz / Monterey Bay
Last Friday, the Bureau of Labor Statistics released a very encouraging jobs report. The economy gained 916,000 jobs in March – well above expert projections of 650,000 to 675,000. The unemployment rate fell again and is now at 6%.
What does this mean for you?
Our lives are deeply impacted by our nation's economy. The better the economy is doing overall, the better most individuals in the country will do as well. Here's a look at what four experts told the Wall Street Journal after reviewing last week's report.
Michael Feroli, JPMorgan Chase:
"The powerful tailwind of the reopening of economic activity appears to be gathering force; while the level of employment last month was still 8.4 million positions below that which prevailed before the pandemic, it is reasonable to expect that a majority of those lost jobs will be recouped in coming months."
Mike Fratantoni, Mortgage Bankers Association:
"We fully expect that this pace of job gains will continue for months, and anticipate that the unemployment rate, now at 6%, will be well below 5% by the end of the year."
Paul Ashworth, Capital Economics:
"With the vaccination program likely to reach critical mass within the next couple of months and the next round of fiscal stimulus providing a big boost, there is finally real light at the end of the tunnel."
Jason Schenker, Prestige Economics:
"People are getting back to work and the vaccine isn't just inoculating the population, it's clearly inoculating the economy."
What does this mean for residential real estate?
Today, the biggest challenge for homebuyers is the lack of homes currently for sale. With listing inventory down 52% from a year ago, bidding wars are skyrocketing. As a result, home prices are climbing.
One answer to this challenge is to build more homes to satisfy the demand. The latest jobs report gives hope for new housing construction, and therefore brings hope to buyers as well. Here's what three industry economists said about the increase in construction jobs revealed in the report:
"Construction jobs boomed in March, one of the largest monthly gains ever. This raises the prospect for more home building and more inventory reaching the market in the upcoming months. The housing market has been hot with fast rising home prices but has been constrained by a lack of supply. By hiring more workers and building more homes, home prices will move to a manageable level to give more Americans a shot at ownership."
"Great jobs report for a housing market in an inventory crisis. Residential construction building jobs increased 3.9% from pre-2020 recession peak in Feb. 2020. The construction industry remains a labor-intensive industry. We need more hammers at work to build more homes."
"Good job numbers in March for residential construction. 37,000 gain from Feb to March. 3.03 million total employment for home builders and remodelers, and up 49,100 from Jan 2020."
Bottom Line
An improving economy with a falling unemployment rate will benefit households across the country, as well as the overall housing market.
Lynne Watanabe-MacFarlane, MCDM, SRES, SRS
Master of Communication Digital Media/Marketing, University of Washington, Seattle
Senior Real Estate Specialist – Advance Certification, National Association of Realtors
Seller Representative Specialist – Advance Certification, National Association of Realtors
PFAC Silicon Valley affiliate (Professional Fiduciary Association of California) #1631 

Intero Real Estate Services | Berkshire Hathaway affiliate
Last May, the Brookings Institution wrote about the post-Covid19 recovery as having several possible shapes of recovery (Z-shaped, V-shaped, U-shaped, W-shaped, L-shaped, and even the Nike Swoosh) but here are four major financial institutions predictions for recovery (below image).
In a Realtor.com study-  we have seen a similar V-Shape recovery, but recently there's been a deceleration as potential sellers found it harder to list and show their home as wildfires spread through the West coast.
Housing Market Recovery Index Highlights – Week Ending September 12
California has shown that social distancing and economic resilience continue to be key factors driving local differences in the housing recovery. Per Realtor.com's research, the spread of COVID-19 is closely linked to the housing slowdown, with markets with higher cases per capita more likely to see a bigger impact on supply and the pace of sales. The speed and sustainability of the reopening, and each market's ability to contain COVID-19, are dictating the speed of recovery across the regions. Finally, resilient economies may have an edge in the housing recovery, and areas with strong job markets before COVID-19, especially those with thriving tech sectors (such as in the SF Bay Area), are seeing buyers and sellers reconnect faster than the rest of the country.
Below are the V-shaped curved found in the northern California communities. Notice the downward trend in Aug – Sept due to the numerous wildfires.
The higher the index value, the higher the level of recovery. The lower the index value, the lower the level of recovery.
Thank you to the brave California Fire Department for coordinating a fantastic job containing many of the fires in California, we applaud their heroic service as many sacrificed their time, energy away from their families to protect people and properties throughout California.
https://www.sfchronicle.com/projects/california-fire-map/
How is your family and how are you handling the aftermath of the fires? I hope you and your family are doing well, but just know that it has effected everyone. It's been a very rough few weeks here in northern California and the housing market certainly has been effected by the enormity and tragedies around us. Be safe & let me know if there's anything we can do to assist.
Lynne Watanabe MacFarlane, MCDM, SRES | Realtor

PFAC Silicon Valley affiliate

Intero | A Berkshire Hathaway Affiliate

phone 831.346.2743 
It's the Weekly Update look at real estate activity in the five SF Bay Area counties (San Mateo, Santa Clara, Santa Cruz, San Benito and Monterey). Take a look at the contrast between 2019 vs. 2020 (March 1st – Aug 22nd) and how far we have bounced back from SIP looking at May, June and July differences between the years. In July 2019 we had a total of 2,757 Closed Sales, but July 2020 we had 3,134 Sales, that's a 13% Year over Year difference.
#realestate #bayarearealestate #sfbayarea #housingmarket #bayarearealtor #Intero #MLSlisting #Aculist
Here's my latest vlog post – I hope you and your family are doing well, staying healthy.
One of the first trends that became evident when quarantines began was the large number of young professionals who had gone home to wait out the virus with their parents. Having left the cities where they work and return to their hometowns, many of these young people may not go back. If the work-from-home situation continues – or if their jobs are eliminated – they might find themselves moving back home for good. This may be one of the factors to my discussion here on this post.
As the quarantine lifts, what are the potential market shifts and migration patterns in the SF Bay Area will we see?
Let me know if you or someone you know is interested in making a change (moving to a bigger home with more office space, multi-generational living, layout changes, bigger garden or fresher outside living at the oceanside.) I'm always here to help you make informed, knowledge-based decisions in the shifting markets!
There is a record nine year high in the number of homes on the market in S.F. as it continues to represent 60% more inventory than at the same time last year and 110% more inventory than in 2015 (according to http://socketsite.com/archives/2020/06/most-homes-on-the-market-in-san-francisco-in-nine-years.html)
If you have any questions or curious to learn about the Santa Clara, Santa Cruz and Monterey Counties, don't hesitate to call.
Lynne Watanabe MacFarlane, MCDM, SRES Realtor
PFAC Silicon Valley affiliate
Intero | Berkshire Hathaway affiliate
831.346.2743 text/voice
L MacFarlane @ Intero. com
Earlier this month, realtor.com announced the release of their initial Housing Recovery Index, a weekly guide showing how the pandemic has impacted the residential real estate market. The index leverages a weighted average of four key components of the housing industry, tracking each of the following:
Housing Demand – Growth in online search activity
Home Price – Growth in asking prices
Housing Supply – Growth of new listings
Pace of Sales – Difference in time-on-market
The index then compares the current status "to the last week of January 2020 market trend, as a baseline for pre-COVID market growth. The overall index is set to 100 in this baseline period. The higher a market's index value, the higher its recovery and vice versa."
The graph below charts the index by showing how the real estate market started out strong in early 2020, and then dropped dramatically at the beginning of March when the pandemic paused the economy. It also shows the strength of the recovery since the beginning of May.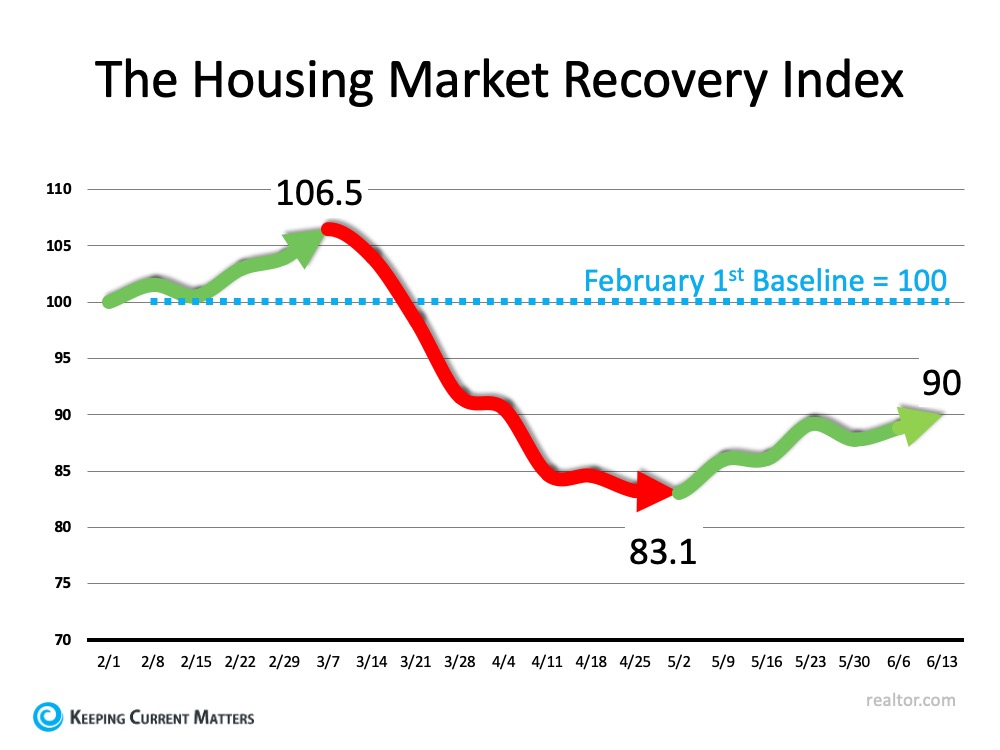 It's clear to see that the housing market is showing promising signs of recovery from the deep economic cuts we experienced earlier this spring. As noted by Dean Mon, Chairman of the National Association of Home Builders (NAHB):
"As the nation reopens, housing is well-positioned to lead the economy forward."
The data today indicates the housing market is already on the way up.
Bottom Line
Staying connected to the housing market's performance over the coming months will be essential, as we continue to evaluate exactly how the housing market is doing in this uncharted time ahead.
The number of building permits issued for single-family homes is the best indicator of how many newly built homes will begin to come to market over the next few months. According to the latestU.S. Census Bureau and U.S. Department of Housing & Urban Development Residential Construction Report, the number of building permits issued in January was 1,551,000. This is a 9.2% increase from December.
How will this impact buyers?
New inventory means more options. Lawrence Yun, Chief Economist at the National Association of Realtors (NAR), explained how this is good news for the housing market – especially for those looking to buy:
More construction will mean more housing inventory for consumers in the later months of this year…Spring months could still be quite tough for buyers since it takes time to convert housing starts into actual housing completions.
How will this impact sellers?
More inventory means more competition. Yun continues to say:
As trade-up buyers move into these newly completed homes in the near future, their existing homes will be released onto the market.
Today, because of the tremendous lack of inventory, a seller can potentially anticipate:
A great sale price on their house as buyers engage in potential bidding wars.
A quick sale as buyers have little inventory to choose from.
Fewer hassles as buyers want to smoothly secure a contract.
Bottom Line
If you're considering selling your house, you'll want to list sooner rather than later. This way, you'll get ahead of this new competition coming to market and ensure the most attention toward your listing and the best price for your house.