What Would a Recession Mean for the Housing Market?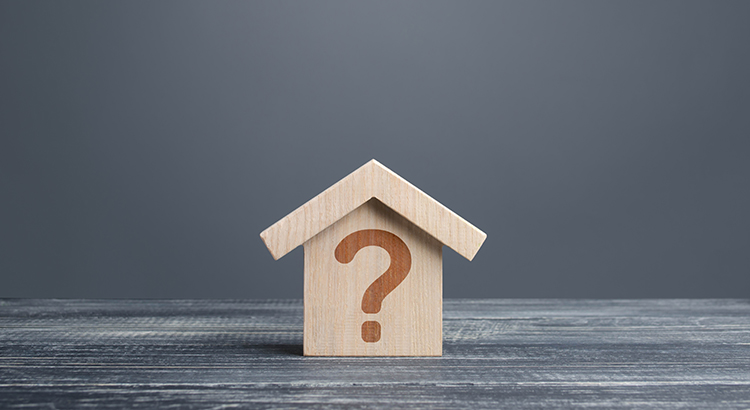 According to a recent survey from the Wall Street Journal, the percentage of economists who believe we'll see a recession in the next 12 months is growing. When surveyed in July 2021, only 12% of economists consulted thought there'd be a recession by now. But this July, when polled, 49% believe we will see a recession in the coming 12 months.
And as more recession talk fills the air, one concern many people have is: should I delay my homeownership plans if there's a recession?
Here's a look at historical data to show what happened in real estate during previous recessions to help prove why you shouldn't be afraid of what a recession would mean for the housing market today.
A Recession Doesn't Mean Falling Home Prices
To show that home prices don't fall every time there's a recession, it helps to turn to historical data. As the graph below illustrates, looking at the recessions going all the way back to 1980, home prices appreciated in four of the last six recessions. So, historically, when the economy slows down, it doesn't mean home values will fall.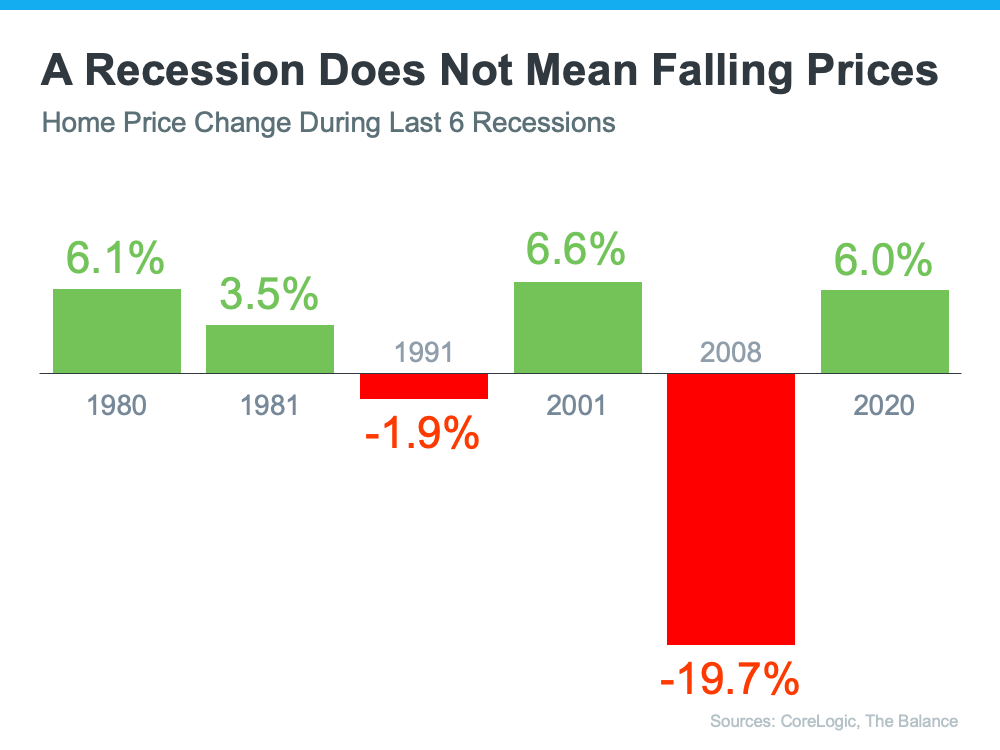 Most people remember the housing crisis in 2008 (the larger of the two red bars in the graph above) and think another recession would repeat what happened then. But this housing market isn't about to crash. The fundamentals are very different today than they were in 2008. So, don't assume we're heading down the same path.
A Recession Means Falling Mortgage Rates
Research also helps paint the picture of how a recession could impact the cost of financing a home. As the chart below shows, historically, each time the economy slowed down, mortgage rates decreased.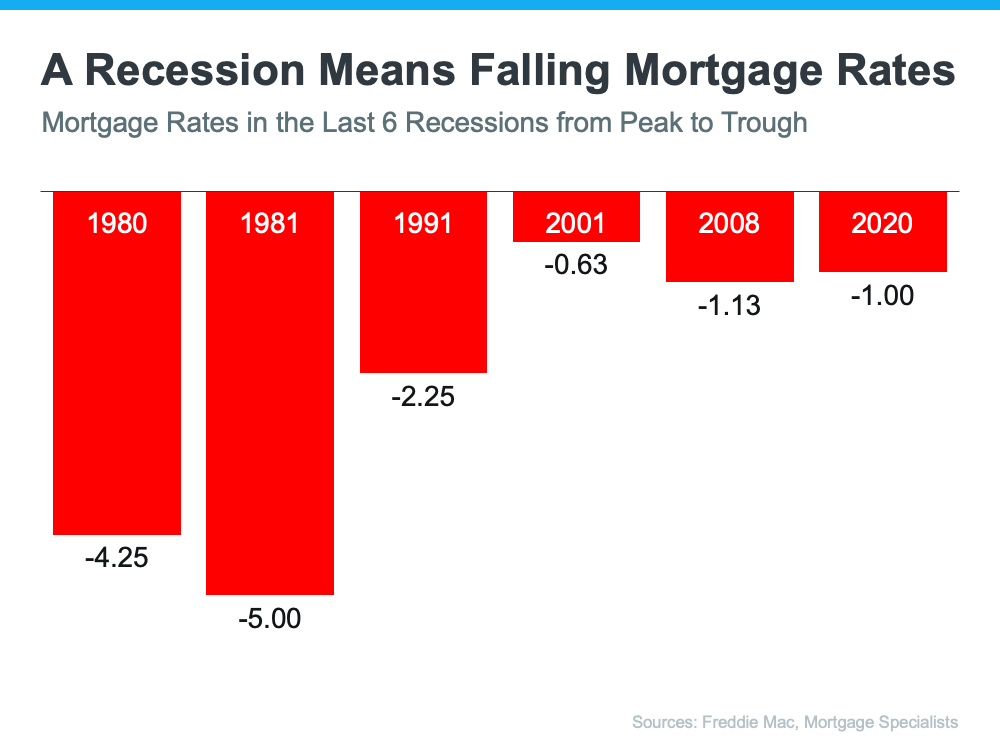 Fortune explains that mortgage rates typically fall during an economic slowdown:
"Over the past five recessions, mortgage rates have fallen an average of 1.8 percentage points from the peak seen during the recession to the trough. And in many cases, they continued to fall after the fact as it takes some time to turn things around even when the recession is technically over."
And while history doesn't always repeat itself, we can learn from and find comfort in the historical data.
Bottom Line
There's no doubt everyone remembers what happened in the housing market in 2008. But you don't need to fear the word recession if you're planning to buy or sell a home. According to historical data, in most recessions, home price gains have stayed strong, and mortgage rates have declined.
If you're thinking about buying or selling a home, let's connect so you have expert advice on what's happening in the housing market and what that means for your homeownership goals.
Lynne Watanabe MacFarlane, Realtor MCDM, SRES, SRS | DRE # 02066698
Intero | Berkshire Hathaway affiliate
LMACFARLANE@INTERO.COM
(408) 800-1141 Silicon Valley / Bay Area
(831) 346-2743 Santa Cruz / Monterey Bay
With all the headlines and buzz in the media, some consumers believe the market is in a housing bubble. As the housing market shifts, you may be wondering what'll happen next. It's only natural for concerns to creep in that it could be a repeat of what took place in 2008. The good news is, there's concrete data to show why this is nothing like the last time.
There's a Shortage of Homes on the Market Today, Not a Surplus
The supply of inventory needed to sustain a normal real estate market is approximately six months. Anything more than that is an overabundance and will causes prices to depreciate. Anything less than that is a shortage and will lead to continued price appreciation.
For historical context, there were too many homes for sale during the housing crisis (many of which were short sales and foreclosures), and that caused prices to tumble. Today, supply is growing, but there's still a shortage of inventory available.
The graph below uses data from the National Association of Realtors (NAR) to show how this time compares to the crash. Today, unsold inventory sits at just a 3.0-months' supply at the current sales pace.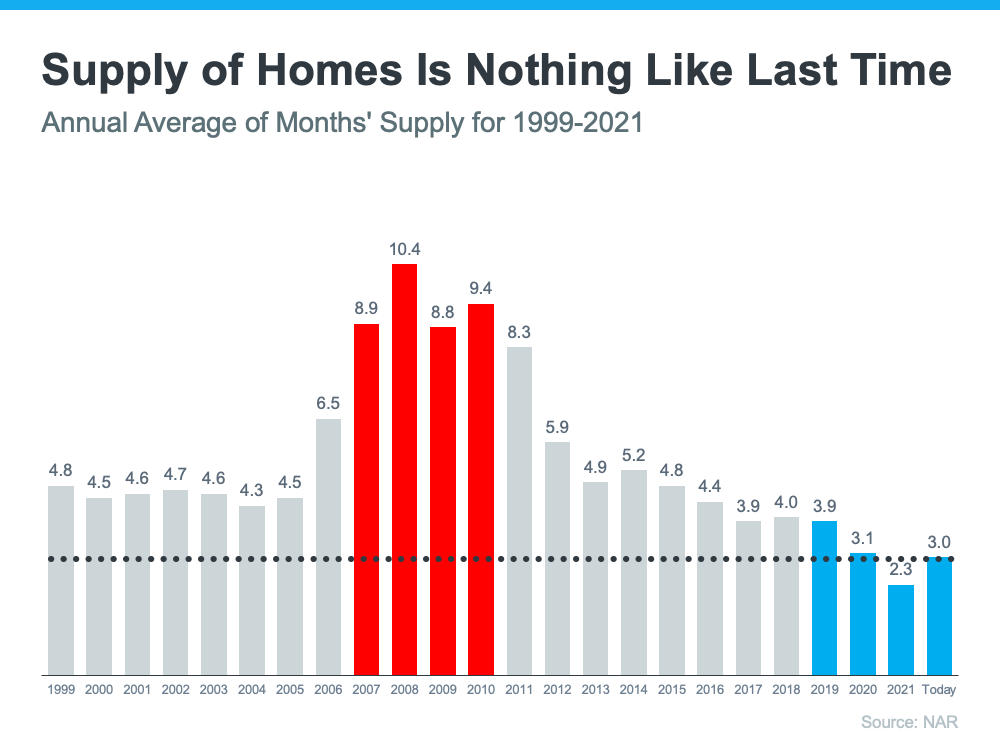 One of the reasons inventory is still low is because of sustained underbuilding. When you couple that with ongoing buyer demand as millennials age into their peak homebuying years, it continues to put upward pressure on home prices. That limited supply compared to buyer demand is why experts forecast home prices won't fall this time.
Mortgage Standards Were Much More Relaxed During the Crash
During the lead-up to the housing crisis, it was much easier to get a home loan than it is today. The graph below showcases data on the Mortgage Credit Availability Index (MCAI) from the Mortgage Bankers Association (MBA). The higher the number, the easier it is to get a mortgage.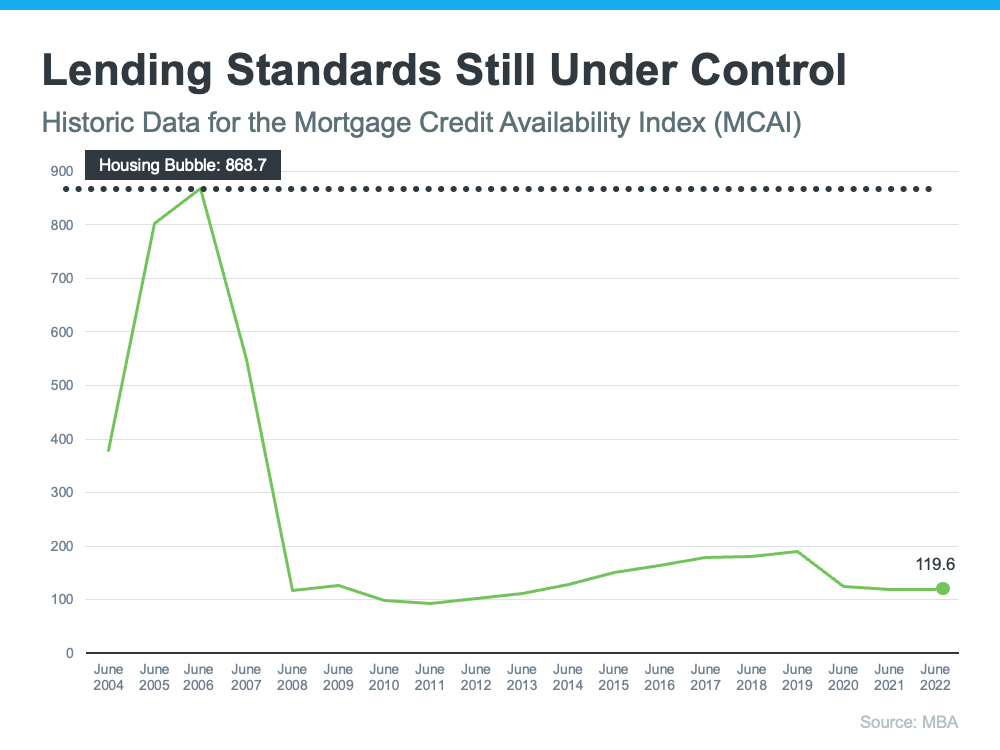 Running up to 2006, banks were creating artificial demand by lowering lending standards and making it easy for just about anyone to qualify for a home loan or refinance their current home. Back then, lending institutions took on much greater risk in both the person and the mortgage products offered. That led to mass defaults, foreclosures, and falling prices.
Today, things are different, and purchasers face much higher standards from mortgage companies. Mark Fleming, Chief Economist at First American, says:
"Credit standards tightened in recent months due to increasing economic uncertainty and monetary policy tightening." 
Stricter standards, like there are today, help prevent a risk of a rash of foreclosures like there was last time.
The Foreclosure Volume Is Nothing Like It Was During the Crash
The most obvious difference is the number of homeowners that were facing foreclosure after the housing bubble burst. Foreclosure activity has been on the way down since the crash because buyers today are more qualified and less likely to default on their loans. The graph below uses data from ATTOM Data Solutions to help tell the story:
In addition, homeowners today are equity rich, not tapped out. In the run-up to the housing bubble, some homeowners were using their homes as personal ATMs. Many immediately withdrew their equity once it built up. When home values began to fall, some homeowners found themselves in a negative equity situation where the amount they owed on their mortgage was greater than the value of their home. Some of those households decided to walk away from their homes, and that led to a wave of distressed property listings (foreclosures and short sales), which sold at considerable discounts that lowered the value of other homes in the area.
Today, prices have risen nicely over the last few years, and that's given homeowners an equity boost. According to Black Knight:
"In total, mortgage holders gained $2.8 trillion in tappable equity over the past 12 months – a 34% increase that equates to more than $207,000 in equity available per borrower. . . ."
With the average home equity now standing at $207,000, homeowners are in a completely different position this time.
Bottom Line
If you're worried we're making the same mistakes that led to the housing crash, the graphs above should help alleviate your concerns. Concrete data and expert insights clearly show why this is nothing like the last time.
Call me if you have any questions
Lynne Watanabe MacFarlane, Realtor

Intero, a Berkshire Hathaway affiliate
408-800-114- Silicon Valley / Bay Area
831-346-2743 Santa Cruz County / Monterey Bay
It's the Weekly Update look at real estate activity in the five SF Bay Area counties (San Mateo, Santa Clara, Santa Cruz, San Benito and Monterey). Take a look at the contrast between 2019 vs. 2020 (March 1st – Aug 22nd) and how far we have bounced back from SIP looking at May, June and July differences between the years. In July 2019 we had a total of 2,757 Closed Sales, but July 2020 we had 3,134 Sales, that's a 13% Year over Year difference.
#realestate #bayarearealestate #sfbayarea #housingmarket #bayarearealtor #Intero #MLSlisting #Aculist
Today I interviewed Rashel Yadegari, Prosperity Home Mortgage as we discuss the common lending myths in the home buying process. If you have any questions with the lending process, please don't hesitate to contact me or Rashel. Hope you enjoy my interview, as it is meant to be a open conversation and an ongoing discussion; I believe it's best be informed so you can make smarter decisions.
Rashel Yadegari, Prosperity Home Morgage, Mortgage Consultant
NMLSR ID: 1246397
Cell: 408-912-0570
email: Rashel.Yadegari@phmloans.com
Lynne Watanabe MacFarlane, MCDM, SRES | Realtor
PFAC Silicon Valley affiliate
Intero | A Berkshire Hathaway Affiliate
phone 831.346.2743
DRE# 02066698
www.Intero.com | facebook | linkedin | blog | videos| luxury home collection | committed to our community
Thanks for your interest!
Sheltering in place doesn't mean real estate transactions have stopped.
I'll be hosting virtual open houses which allows prospective buyers to see properties from the comfort of their home, while remaining compliant with the SIP mandate.
Call me today if you're interested in buying or selling a home.
Thank you and stay well!
Lynne MacFarlane, MCDM, SRES
PFAC affiliate, Realtor
DRE #02066698
(831) 346-2743 mobile/ Lmacfarlane@intero.com
When it comes to planting roots, San Francisco area homeowners have some of the deepest in the country (who can really blame homeowners for not moving when they have all of that beautiful California sunshine to soak in?) ☀️
Can you guess which Bay Area City ranked #2 after Detroit?
Find out more in this article from 55 Places.com click here.
Let me know if you or someone you know needs resources to "age in place" I would be happy to help! I have a great network of senior healthcare providers and affiliate services who can help provide a comfortable and safe environment if you chose to stay in your home for 30, 40 or more years!
Lynne MacFarlane, Realtor
(831) 346.2743 text/voice
San Mateo County – Q4 2019
• In San Mateo County, median sales prices for single family homes rose to an all-time high of $1.544 million.
• Inventories have rebounded slightly from 2017 but are still very low.
• Sales are dismal; the weakest they've been since 2008.
• All metrics still point to a very tight market – there are very few active listings, median days-on-market is just 14 and final sales price is consistently well above listing price.
• "Even with prices hovering around $1.5 million, there's simply nothing to buy." – Elliot Eisenberg, PhD
• The common interest market in San Mateo is not quite as tight as the single-family market and seems to have loosened up a bit from last year, as seen in median sales price declining from $920k to $901k, and days on market rose slightly. However, inventories remain tight.
For private tours & buyer consultation meeting, contact Lynne MacFarlane, Realtor
DRE #02066698
(831) 346-2743 text/voice
Outside of a strong economy, low unemployment, and higher wages, there are three more great reasons why you may want to consider buying your dream home this year instead of waiting.
1. Buying a Home is a Great Investment
Several reports indicate that real estate is a good investment, topping other options such as gold, stocks, bonds, and savings. Why? Real estate helps build equity, a form of investing for you and your family. According to CoreLogic's Equity Report,
"U.S. homeowners with mortgages (roughly 64% of all properties) have seen their equity increase by a total of nearly $457 billion since the third quarter 2018, an increase of 5.1%, year over year."
This means the average homeowner gained approximately $5,300 in equity over the past year. If you want to start building your equity, put your housing costs to work for you through homeownership this year.
2. Mortgage Interest Rates Are Low
The Primary Mortgage Market Survey from Freddie Mac indicates that interest rates for a 30-year mortgage have fallen since November 2018 when they hit 4.94%. In their latest forecast, Freddie Mac expects rates to remain low, leveling out to a yearly average of 3.8% in 2020.
When you purchase a home at a low mortgage rate, it will impact your monthly mortgage payment, giving you the opportunity to buy more house for your money.
3. Investing in Your Family is a Win
There are some renters who haven't purchased a home yet because they're uncomfortable taking on the obligation of a mortgage. Everyone should realize that, unless you're living rent-free with your parents, you're paying a mortgage – either yours or that of your landlord.
Today, rental prices continue to increase, and when you're paying your landlord's mortgage instead of your own, you're not the one earning the equity. As an owner, your mortgage payment is a form of 'forced savings' you can use later in life to reinvest in your family. You can use it for a variety of opportunities, such as saving for your children's education, moving up to a bigger home, or starting your own business. As a renter, it can be more challenging to achieve those types of dreams without home equity working for you.
Bottom Line
Buying a home sooner rather than later could lead to substantial savings and long-term financial growth for you and your family. Let's get together to determine if homeownership is the right choice for you this year.
Lynne MacFarlane, MCDM, Realtor
831.346.2743 call/text